Your First Visit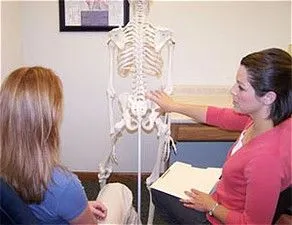 Getting Started:
When you come to Back To Health Chiropractic for your first visit, we'll start with some paperwork that will help us learn about your health history and goals. Our office staff will give you a tour of our office, describing the different treatment areas and specialty services we offer.
The Examination:
Your consultation with the doctor will include a detailed examination to determine how well your spine functions. The doctor may also perform orthopedic, neurological, and reflex tests. All these tests and questions help the doctor determine areas of your spine that could be causing the problems. It's a good time to get to know one another. If the doctor feels x-rays or the study of previous diagnostic tests will assist with your case, we may request information from your other health care providers or we may take x-rays while you are in our office.
Coordination of Care:
After a study of the examination results, your doctor will discuss the findings with you. If your doctor feels you are a good candidate for chiropractic care, a specific program will be tailored to meet your health needs.
Frequently Asked Questions
Q. Will I have to have x-rays?
A. X-rays can be very helpful in determining trauma to your spine, especially after an accident or injury. Your doctor will discuss this option with you after the initial examination.
Q. When will I get my first adjustment?
A. It depends on how you were injured, your complaint, and what type of diagnostic tests may be needed to determine your problem. Each patient is different and only your doctor can determine what is right for your unique situation.
Q. How long will it take to feel better?
A. Some patients feel relief almost instantly. Others may take weeks or months to fully recover. Healing depends on the type and severity of your injury. Every patient recovers at their own pace depending on age, over-all health, muscle-tone, diet, and even your attitude.
Q. Will the doctor prescribe medications?
A. No. Chiropractors don't dispense medications. We rely on natural methods and the healing power of the body. We may, however, suggest that you apply heat or ice to aid in the healing process.

Q. After my initial set of treatments, should I come back?
A. Yes. Your doctor will suggest a time frame for maintenance treatments. Just like you wouldn't expect to go to the dentist once in your life and have good teeth, you can't expect that one visit to the Chiropractor will keep your spine in a healthy alignment.
Our goal is to make you feel comfortable and keep you informed throughout your visit. Please ask any questions during your visit that will help you make better decisions for your health.